Members' Benefits
When you become a member of the Mercedes-Benz Club, you gain access to all manner of exclusive benefits. These include your own copy of the monthly Club magazine delivered to your door, copies of the bi-annual Classic (Mercedes-Benz Club) magazine all the way from Germany, access to Club Events, preferential insurance rates, parts discounts, and much much more…
Monthly Gazette
---
The Club's Monthly Magazine
The Gazette is the glossy, full-colour 80-plus page, A4 award-winning magazine that every Club member receives through their letterbox each month. It contains news, features, road-tests, technical articles, and regional reports amongst other things. Contributed are welcomed from Mercedes-Benz specialists and Club members, in addition to that content which is produced by National and Regional Club Officials. Each quarter, it includes a supplement called The Directory. This handy reference guide, includes the Club's Good Garage Guide (comprising Members' recommendations), details of Club discounts and also the contact details of the various Club Officials.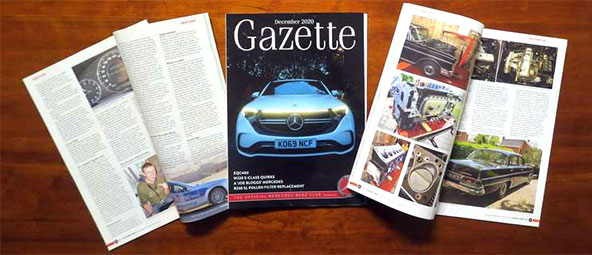 Mercedes-Benz Classic Magazine
---
Free Bi-annual Magazine
The Mercedes-Benz Classic Magazine was established as a publication more than 15 years ago by Daimler AG. The magazine puts the brand's traditions and the unique history of Mercedes-Benz as the automotive manufacturer with the richest tradition in the spotlight. It links historic vehicles, from antique to classic cars, with a modern, often bold layout and a fast, dynamic editing style. The objective is to show previously unreleased photographs and editorial views.
Club members receive this magazine for free twice a year. Delivered to your door from Germany, it normally costs €8.00 per issue.
Events and Pub Meets
---
Regular National and International Events
The Club has a continuous programme of social, technical and driving events. These range from monthly pub meets through to local shows and rallies. These are organised by the Club's network of Regional Officers. Meanwhile, a central events team runs many events Nationally, such as the annual National Concours and the SL Day. The Club also organises international rallies in Europe, and regularly receives invitations from other Mercedes-Benz Clubs around the world to participate in their events.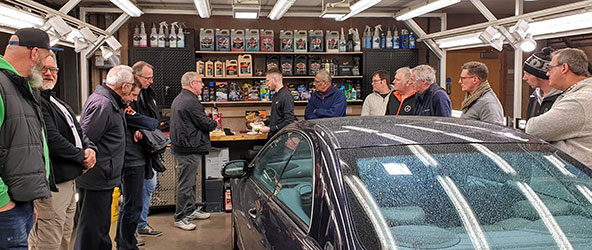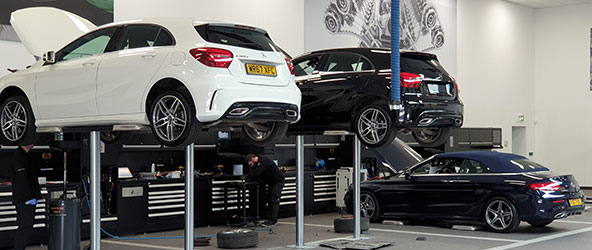 Parts and Servicing Discounts
---
Main-dealers and Independent Specialists
Many Mercedes-Benz main-dealers and independent specialists offer discounts on parts and preferential rates for service to Club members. Details of these can be found in the Club Directory. These discounts generally include Mercedes-Benz merchandise too. Those wishing to visit the Mercedes-Benz Classic Museum in Stuttgart will be pleased to know that Club members get free admission!
Preferential Insurance Rates
---
Approved Insurance Broker Panel
The Club has a panel of four insurance brokers who aim to offer special rates to Club members. Policies are available for both modern and classic Mercedes-Benz cars. The four insurance brokers that meet our Club's standards of service provision are: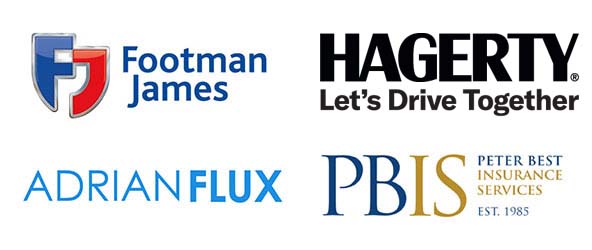 Insurance Valuations
---
Our Experts Provide Agreed Values
Mercedes-Benz Club members can use our experienced Valuation Team to examine your car and provide an agreed value certificate to present to your insurance company.
Mercedes-Benz Club Lounge and Parts Catalogue
---
XENTRY Parts Information and Club Lounge
Club Members are granted access to the exclusive Mercedes-Benz Club Lounge Classic parts Online Classic Magazine and Daimler Parts catalogue (separate registration required).
Technical Team
---
Our Group of Technical Advisors Ready to Help Out
The Club's Technical Advisers and Model Register Captains include some of the country's leading Mercedes-Benz specialists, covering most models. Its supply of technical information is being expanded all the time.
Members' Forum
---
Online Discussions with other Club Members
Our member-only online forum provides opportunities to share experiences and gain help from other Club members. (Please Note: Access to this resource is managed manually by a team of volunteers on behalf of the Club. These members have full time jobs, so please be aware that it may take a day or two for them to approve your forum access. Also, forum access is dependent on meeting the minimum system requirements published here)
Our Club Archive
---
Containing Thousands of Artifacts
Ronald Johnson, Club founder started the Archive in 1952. Over the years, this has grown into a vast resource of photographs, technical documents and memorabilia. Ronald also kept detailed records of every Mercedes-Benz he saw and this is used by those around the world when researching early Benz motor cars. Club members have free access to all of this information.
DVLA Registration Assistance
---
Imported or UK Car Help
The DVLA Team work closely with Mercedes-Benz UK and our own Club Archive to help Mercedes-Benz club members register imported cars or retain the issued original registration number if the original documentation is missing.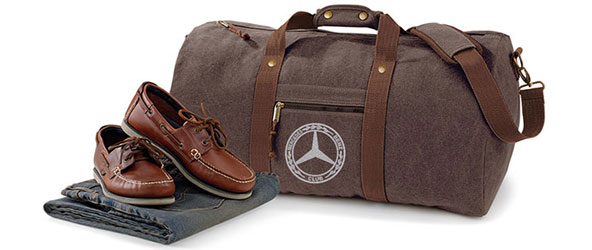 Exclusive Club Branded Merchandise
---
Member-only Clothing and Products
The Mercedes-Benz Club Shop provides a wide range of exclusive clothing, personal accessories, car accessories, covers, care products and books and more.